February 21st, 2022 12:00am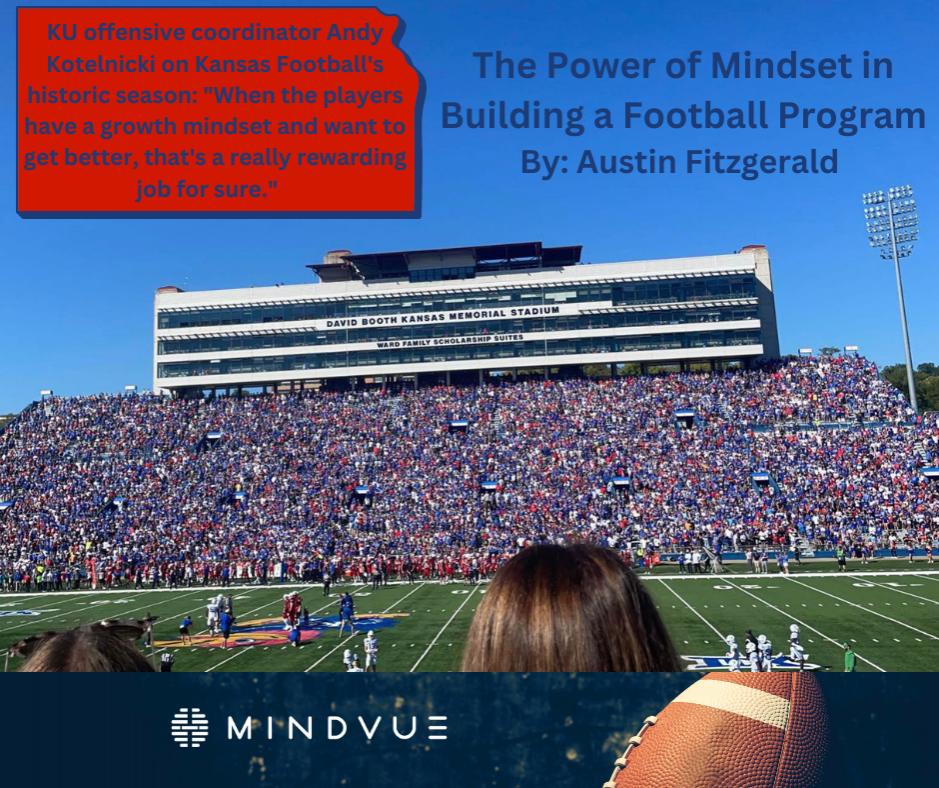 The Kansas Jayhawk football program has had a very rewarding season that has now found them playing in the postseason for the first time in 14 years. A lot of that success can be attributed to the mindset and leadership of offensive coordinator Andy Kotelnicki, who Kansas hired in May of 2021, along with defensive coordinator Brian Borland and head coach Lance Leipold. On January 15th, the Frank & Barbara Broyles Foundation nominated Kotelnicki for the Broyles award, a prestigious accolade given annually to the top assistant coach in the Power Five football conferences. Kotelnicki said the players and staff are the reason that the team is as successful as they are.
"We coach real hard, and they understand that we love them." Kotelnicki said. "As a teacher, if you can get your players to do that, you are fulfilled, personally fulfilled."
Throughout the season, KU has shown in multiple ways the potential of this team when they maximize their mindsets to amplify the talent on their roster.
"Experience and attention to detail would be the two things. Experience for the players to know why attention to detail matters." Kotelnicki said. "When you ask them [the players], they are the first ones to be accountable for a mistake that is made. I love looking at the room on a Monday and hearing guys say that. For guys to nod their head and recognize that, I am excited for them because it means they are growing."
Another key contributor to KU's success this season is due to the team's approach of having a growth mindset. Having a growth mindset starts with belief. No matter who a team is playing or where they are playing, to be on a trajectory of success, teams must believe winning is possible every time they step on the field. It starts with believing each person on the team can grow and improve.
Dr. Brian Davidson, MindVue's founder and president, mentioned recently while serving as a guest on the 4D Athlete Podcast that just having one factor like growth mindset is an important ingredient, but insufficient by itself. Rather, it is a compilation of growth mindset in addition to these other mindset skills that will maximize performance. Dr. Davidson elaborated how using one's strength while having a clear sense of identity builds self-awareness. Next, believing potential can be cultivated by effort builds a growth mindset and believing in one's ability to pursue excellence and accomplish one's goals builds self-efficacy. Finally, having self-generated, meaningful goals with a strong sense of purpose builds intrinsic motivation. All these factors will, in turn, work together to help to build a champion mindset.
A growth mindset is more than just winning, though. It is the notion that every experience provides an opportunity to grow physically, mentally, and emotionally as human beings. Having that growth mindset will contribute to success in the long term, no matter how much physical talent and mental intelligence a person possesses.
Adaptability is another factor that reaps incredible results. Life can be challenging when faced with an unpredictable situation. However, how a person responds to each situation they face will set the stage for what happens next with their team, employees, fellow clients, as well as their family and friends. People need to adapt if they want to be the best version of themselves, and it starts with how they react to difficult circumstances.
When asked about his team coming into the game against recent opponent, Texas, Kotelnicki was not concerned because of the mentality of the players and the trust they have in one another.
"[This is] a team not panicking when there is a position change or a personnel change at a position." Kotelnicki said. "I think with how we practice and how we do things and the reps we get; our guys understand that it doesn't really matter who the 11 guys are on the field. The expectation is the expectation, and the standard is the standard, and we can uphold those standards based on how we have practiced. It's a next man up attitude."
In the last five Big 12 seasons before this one, Kansas football was 3-41 in conference games (9-48 overall). This season Kansas has won six games and accumulated victories over West Virginia 55-42 (first time since November 6th, 2013), Iowa State 14-11 (first time since November 8th, 2014), and Oklahoma State 37-16 (first time since November 10th, 2007), all of whom beat Kansas last year by a combined 38 to 148. With changing the mindsets and attitudes of the players and team, Kansas has now become bowl-eligible for the first time since 2008.
MindVue's work and research with collegiate and professional athletes and teams has shown the positive impact growth mindset, adaptability, and other key mindset skills have on performance. Just like with the Kansas Jayhawks football team, if a person has the belief that they can grow and get better no matter what life throws at them, there is no ceiling to what they are able to accomplish moving forward.
For more information on developing a growth mindset, adaptability, and other key mindset skills, please contact us.